Friday, April 17, 2009
Posted by

=MaSoN=
at 11:32 AM
1 comment:
Links to this post


Wow- I cant
believe
that Easter was like last week.. So I thought i better get going on what we did last weekend.
On
Saturday
we woke up and went down to the Bountiful Park by 9:40 to go to a Easter Hunt. I walked down with Marla, Milo,
Kenzie
and Cameron ( My
niece
and nephew) The easter hunt was done by someone in Marla's ward who owes there own
business
, I would tell you the name but cant find the paper.. Anyway there were 6,500 eggs laid out everywhere on the ground. There were
different
age groups so that everyone had an
equal
opportunity to get eggs
. So after we helped Milo get some eggs and turn in the eggs that had stars on them, for a prize..... It was the adults turn to egg hunt!!!! And boy was it
craziness
. I only got 4 eggs and so did
Dave
and my sister in law Tiff.. Also if you got an egg with a number then you got a really nice prize. I got an egg with a number 2 on it and Tiff got 16. She got a 1 hour massage somewhere and I got two certificate to Paradise Bakery.. And boy was it good. So that was really really fun! Thanks Terry Dorsey for inviting us!
Then after that we went up to Aunt Joe's to Dye Eggs. A tradition we do every year. This year Dave and I
purchased
a Tye Dyeing set. And it was really cool. Milo did really good and did all of his eggs by his self. He was
covered
in dye all over his hands..... but hes
washable
and he had so much fun!
On Sunday I got to hide all of the eggs in Grandma Marlas yard for all the little kids. First we had a nice dinner then the kids were off to find all 124 eggs! It was really fun.
On Monday we went to Nanna's and G-pa Rue's for another Easter egg hunt! I forgot my camera so i dont have pics of that but it was fun as well. We played with a balloon rocket, you have to see it to understand but we had lots of fun being together as a family. And it was good to see everyone.
Well If you dont hear for me again its probley cuz we all got a sugar surge for all of the candy Milo found and we wount be able to move intell its out of our system. I would say his bag of candy it about 10 Lbs. But thank you to everyone for such the fun weekend last week. We had so much fun. And I love being with my Family!!!!
Posted by

=MaSoN=
at 10:46 AM
No comments:
Links to this post


Tuesday, April 7, 2009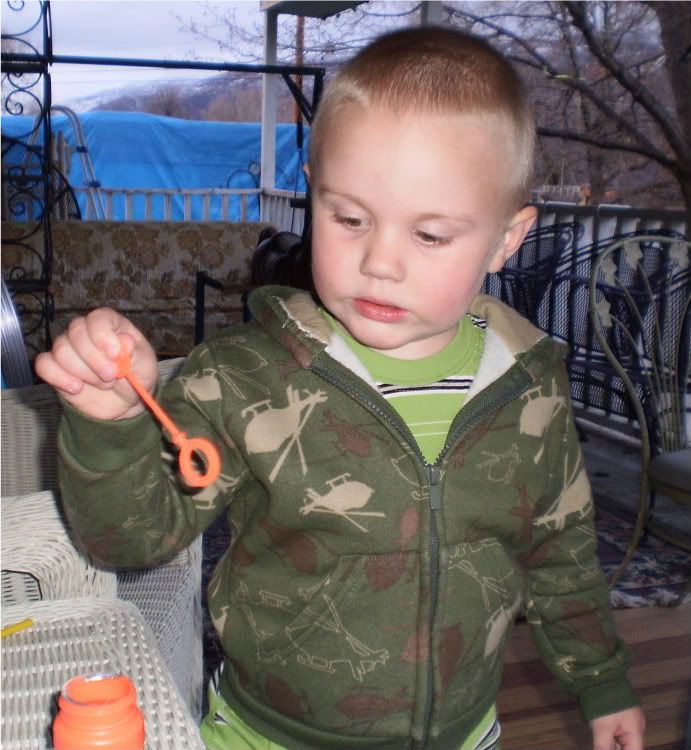 If there are bubbles around Milo is right there wanting to join in. I found a package with all these fun gadgets to blow the bubbles with and a small bottle of bubbles for a doller at clems...(favorite store!!!! if you havent been there ill tell ya where its at... Awesome deals all of the time) I also found some school things there. I found a ABC booklet so Milo can learn to write his name, not just spell it. He is doing really good with it. He likes to spell out his name all of the time and now He likes to point out the letters of his name whenever he see's it. I am so proud of him. I am glad that i was able to teach him that while i am at home with him.
Pooor milo has been sick with a bad fever for some reason the past 2 days. He was just laying around yesturday outside wraped up in a blanket watching all of the kids play. Latter that night you could just tell he didnt feel well so we took his temp and it was 104.4 YIKES. He has never had a temp that bad or high. So we gave him some more medication and he finally felt better. He still is feeling not so good today but im glad that we have been able to go outside and enjoy this awesome wheather... I hope everyone is too. I will be posting more pics soon...
Posted by

=MaSoN=
at 5:45 PM
1 comment:
Links to this post